Product Summary
Have you noticed brownish colouring around your dog's lips or paws, or brown gunk in her ears? It could be a dog yeast infection.
This complete protocol is an intelligent way to help get rid of dog yeast without dangerous yeast die-off. It's a safe and effective program of gentle herbs and homeopathic remedies. Dog friendly only.
This is a 3 Step Product Kit to clear up a dog yeast infection which contains:
Liver Tonic - 60ml
Yeasty Beast 1 - homeopathic combination 30ml
Yeasty Beast 2 - nutraceutical powder 69g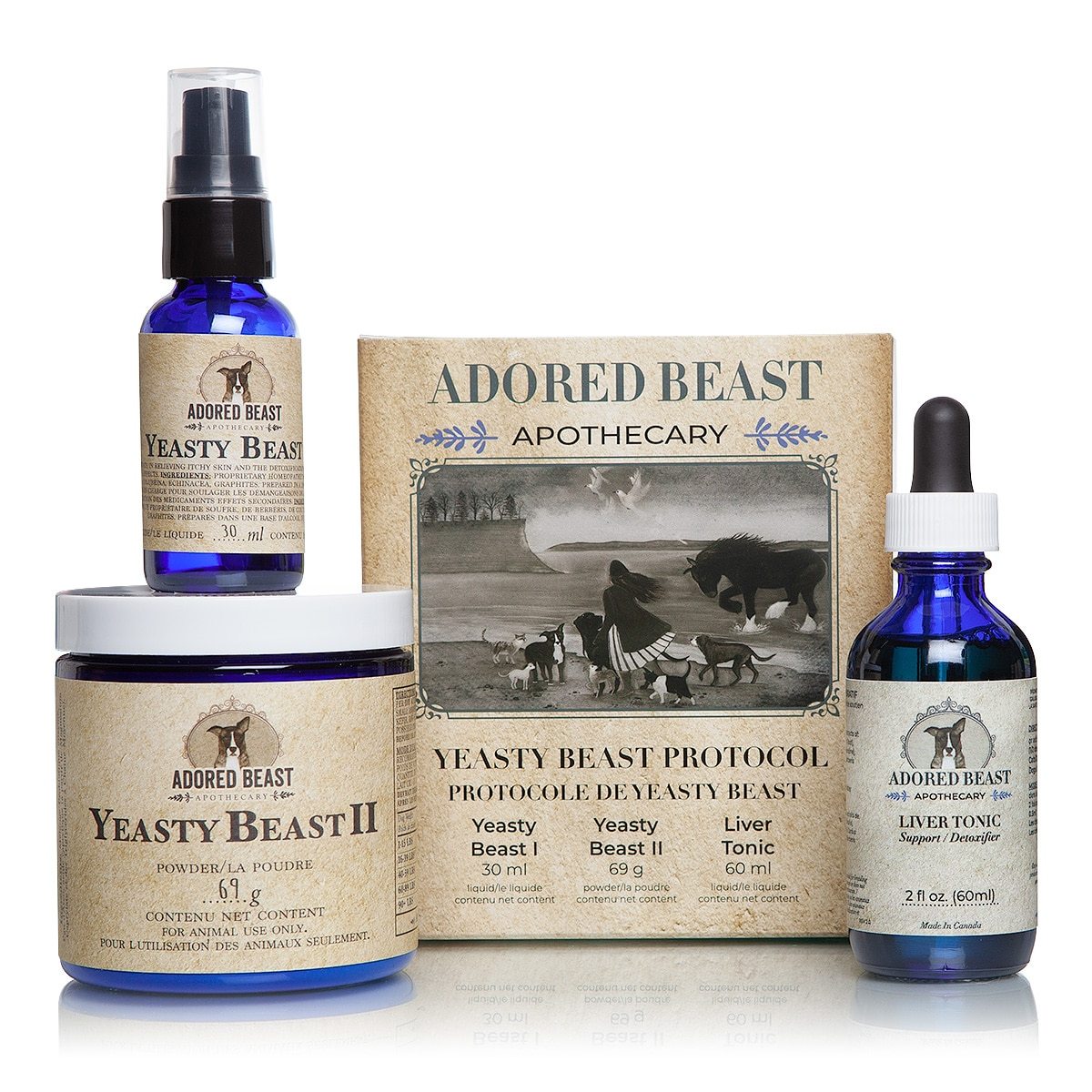 Product Video
More on Yeasty Beast Protocol
Product Ingredients
Protocol Includes :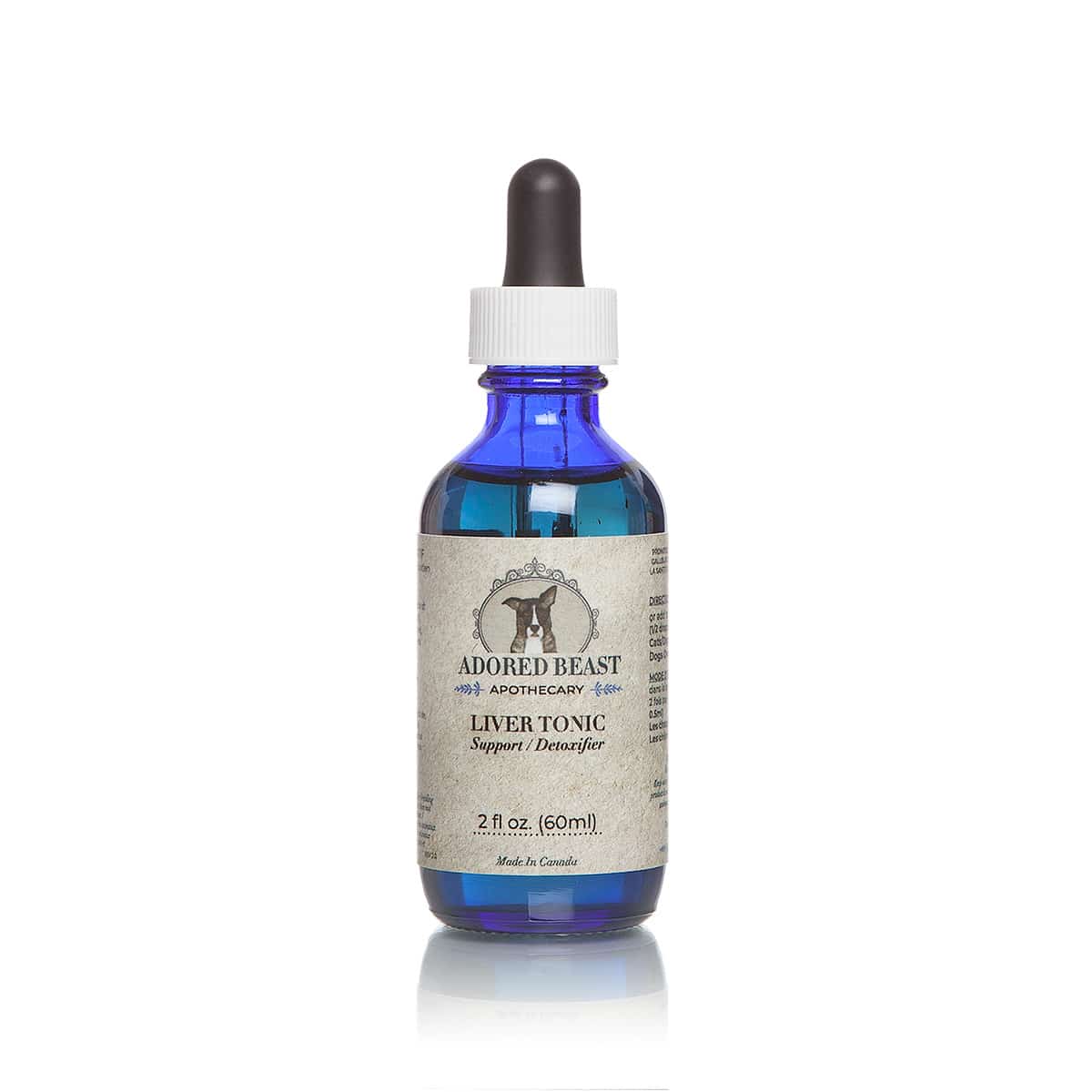 Liver Tonic
Helps regenerate healthy liver cells and boosts the organ's ability to filter toxins from the blood. Aids in proper function of histamine (associated with allergies, chronic inflammation), protein synthesis and biochemical production for digestion.
Ingredients
Mother tincture of:
Taraxacum officinalis (Dandelion Root)
Chelidonium majus (Greater Celendine)
Cardus marianus (Milk Thistle)
Berberis vulgaris (Barberry)
Organic Vegetable Glycerin
Water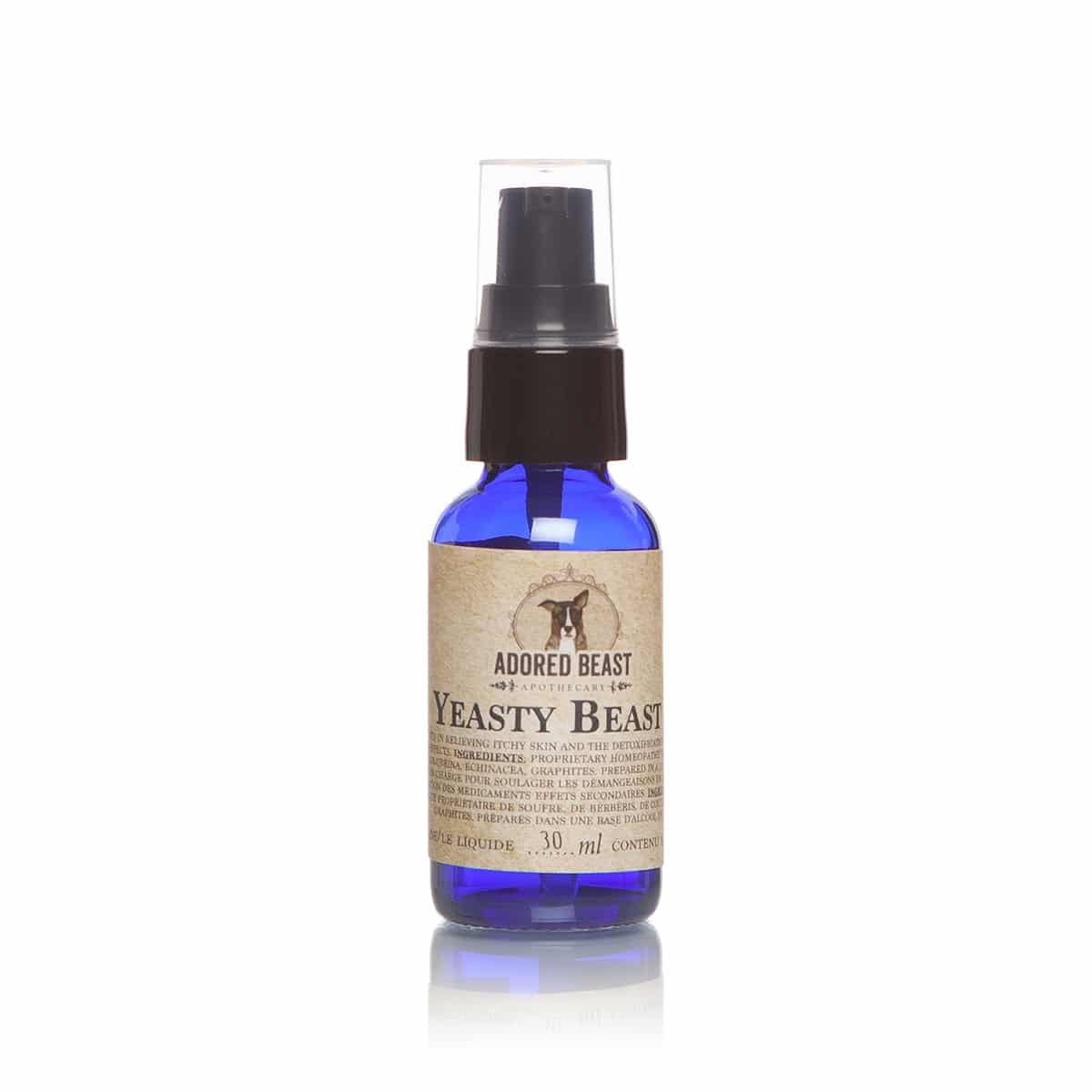 Yeasty Beast I
A homeopathic combination of Sulphur, Berberis, Nux Vomica, Echinacea, and Graphites prepared in a 13% alcohol base. This combination is specifically designed to target the skin. Yeasty Beast I is intended to help with itch, detoxification, and toxin removal. This combination of ingredients may also be beneficial for supporting overall immune health.
Ingredients:
Homeopathic Sulphur 30x
Homeopathic Barberry 12c
Homeopathic Nux Vomica 12c
Homeopathic Echinacea 12c
Homeopathic Graphites 12c
13% alcohol base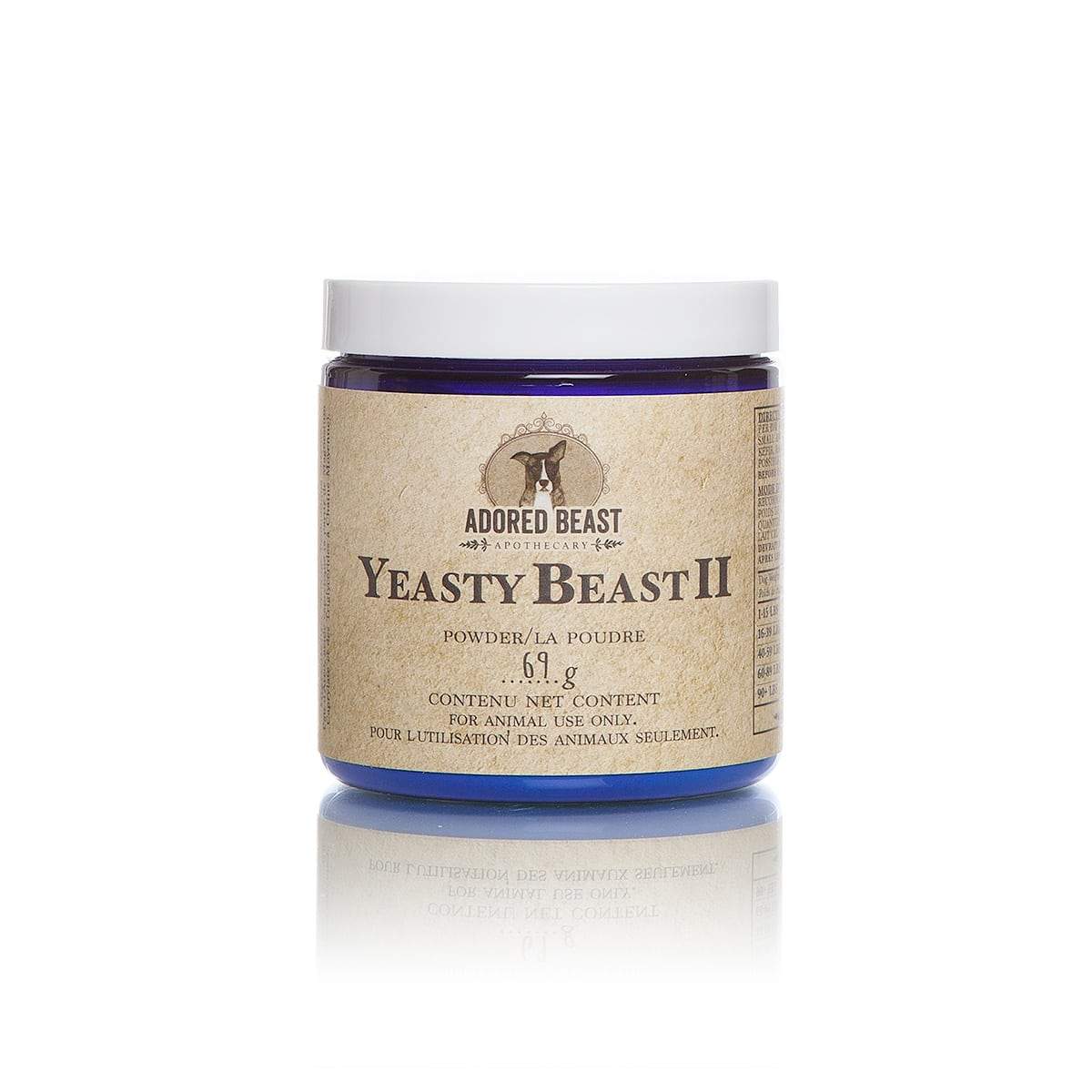 Yeasty Beast II
An enzyme, probiotic and herbal blend including Pau d'Arco and Caprylic Acid. This formula was methodically designed to target yeast while avoiding an intense Herxheimer reaction (toxic yeast die-off), which can look like the yeast is getting worse.
Ingredients:
Enzyme Blend
Pau D'Arco
Magnesium Caprylate
Medium Chain Triglycerides
Saccharomyces boulardii 20 billion cfu
Product Usage Directions
The protocol contains detailed instructions to clear out a dog yeast infection following these simple steps.
STEP 1 - Diet
Change diet to eliminate as many starches, sugars and carbohydrates as possible – this will initiate the early stages of yeast starvation and eventually create a die-off.
Recommended to change for 14 days prior in starting the protocol.
< 14 days after starting the Diet Change (step 1), move on to (step 2) below >
STEP 2 - Liver Tonic
Introduce the Liver Tonic to help prepare the organs for detox of the yeast toxins.
Add to food two (2) times per day.
Give daily until the bottle is finished.
| Dog's Weight | Dosage |
| --- | --- |
| Dogs under 6 lbs | 1/4 dropper (0.25ml) |
| Dogs 7 lbs - 60 lbs | 1/2 dropper (0.5 ml) |
| Dogs Over 60+ lbs | 1 dropper (1 ml) |
< 3 days after starting the Liver Tonic (step 2), move on to (step 3) below >
STEP 3 - Yeasty Beast I
Introduce the Yeasty Beast I homeopathic combination - these ingredients will support skin and detox as well as the immune system.
Give 4 pumps (0.5ml) orally twice a day for up to 14 days.
To be given 15min before food.
Hold the remaining contents on reserve to resume if needed.
*If at any time during the 14 days the condition seems to worsen, please discontinue. If the 14 days is complete and the animal's condition seems to regress after stopping. You can resume dosing once per day for up to 7 days.
< 3 days after starting the Yeasty Beast l (step 3), move on to (step 4) below >
STEP 4 - Yeasty Beast II
Introduce the Yeasty Beast II Powder - you would do this 2 hours before or after meals to allow the enzymes to work on the yeast instead of assisting with digestion.
Give the recommended dose once (1x) per day according to your dog's weight in a small amount of plain unsweetened yogurt, kefir, raw milk, or goat milk (organic if possible).
This step should ideally happen 2 hours before or after meals/food.
Use the entire contents of the jar.
| DOG WEIGHT | DAILY SERVING |
| --- | --- |
| 1 – 15 LBS (0.45-6.8kg) | 1/8 TSP |
| 16 – 39 LBS (7.25-17.7kg) | 1/4 TSP |
| 40 – 59 LBS (18.14-26.7kg) | 1/2 TSP |
| 60 – 89 LBS (27.2-40.4kg) | 3/4 TSP |
| 90+ LBS (40.8kg +) | 1 TSP |
< Once the yeast die off is complete, it is a good idea to move on to the Leaky Gut Protocol or at minimum add in Love Bugs to help increase and maintain the optimal level of beneficial gut flora to keep the yeast at bay. >
Product FAQ
Q : Will my pet's symptoms get worse before they get better?

A : If your animal has a very strong yeast infestation or overgrowth, a rapid die-off / detox can occur in which case we would recommend switching to our Yeasty Beast protocol then back to the Leaky Gut protocol to support the healing that the yeast creates.
Q : How come I ran out of some of the products in the kit? Do I keep giving the rest?

A : It is very simple. The protocol was developed to support all the organs and some organs will respond faster so the products you are running out of will not need to be refilled unless:
They are not responding as quickly as expected (usually if the problem is a chronic issue which means that your animal has been given many drugs that suppressed it or if it has been on going for 6 months or longer)
If it is a very small dog in which case the powders last a much longer time
But in all cases YES, you continue the powders!
Many folks find that they do not need to purchase an additional single Yeasty Beast I and they just finish off each product as they run out, but if you are feeling like there is still some additional "work to be done" you can certainly purchase a single Yeasty Beast I to keep going. You would just need to contact jjehomez@gmail.com to purchase. It's not listed for individual sale on our website as it's only to be used in conjunction with the rest of the Yeasty Beast Protocol ingredients.
Q : Can I use other probiotics with the Yeasty Beast Protocol?
A : We don't recommend continuing with probiotics or digestive enzymes while using the Yeasty Beast Protocol as it works in the body in a very specific way.
Q : Do I need to use dairy for Yeasty Beast II?

A : You can give with a small amount of something else, I often recommend bone broth for dogs that can't do dairy. The main thing is to not give it with too much of any food! We're looking for the digestive enzymes in Yeasty Beast II to work on breaking down the dead yeast, not the food you've given it with.
Q : What can I do if my dog won't eat the Yeast Beast II powder?

A : You can mix the Yeasty Beast II powder with a small amount of their usual food, organic sardines packed in spring water, or bone broth. Be sure to only use a small amount to mix the powder into, the point here is to feed it on an empty stomach., 2 hours away from a normal-sized meal.
Q : How long will this last?
A : The kit lasts approximately:
60 days for up to 60lbs
30 days for over 60lbs
Note
FOR USE IN DOGS ONLY.
STORE AT ROOM TEMPERATURE (15-30° CELSIUS)
THIS PRODUCT IS NOT FOR USE ON CATS.
SAFE AND EFFECTIVE USE IN PREGNANT ANIMALS OR THOSE INTENDED FOR BREEDING HAS NOT BEEN PROVEN.
THIS INFORMATION IS INTENDED TO PROVIDE INFORMATION ONLY.
EACH ANIMAL HEALTH SITUATION IS UNIQUE. THIS INFORMATION IS NOT INTENDED FOR USE IN DIAGNOSIS OR TREATMENT OF SPECIFIC HEALTH PROBLEMS OR DISEASES, AND SHOULD NEVER BE CONSIDERED AS A SUBSTITUTE FOR VETERINARY ADVICE."
JJ E-Homez Holistic Pet Return Policy
Generally, all our products are strictly non-refundable nor exchangeable.
However, in the event you received an incorrect or defective item, or any other valid reason that you can't enjoy your purchase, we will provide a refund or an exchange, case by case basis.
All we ask is that when the item is returned, it should meet the following requirements:
Reach out to us to arrange an appointment to drop off your item at 216A Boon Lay Ave.
Item returned should be in their original & sealed packaging. Broken seals will not be accepted, unless there's a valid reason, based on case by case basis.
Please ensure at least 6 months of shelf life if it's a perishable item.
Send us your order confirmation email for refund verification.
Items not eligible for returns:
Food related, wearables, beds and carriers due to food safety & hygiene reasons.
Items that are purchased from promotional pricing from all of our sales channels.
Customers who had a history of returning more than 3 items.
When we receive the refunded/exchange item, we will review the condition of the item, and reach out to you to confirm and issue a refund/exchange within 7 working days. We regret that customers who decline to respect our policy will be ineligible for exchange, returns and refunds.
Do also note that if we find that a product has been intentionally damaged or tampered with, refunds will not be offered.
As generally, returns are not allowed otherwise, please check your order (e.g. type, size, colour, quantity, etc) before checking out. If you need help with any product, chat with us or please send us an email to jjehomez@gmail.com
Pre-order Items T&C
Please note of the following terms & conditions on all our Pre-order items :
Full payment is required for all Pre-order items.
Expect Pre-order items to be delivered between 3 to 15 working days (depending on which item) starting from your order date.
We will connect via WhatsApp or Email should there be any updates or concerns regarding your order.
Promotions
Website promotion for year 2023
Free Delivery for : orders above $38
*Terms & Conditions:
Website promotion is only applicable for orders/payments made via our website.
Promotions at other shopping platforms (Carousell, Lazada, Shopee, Amazon) is only applicable for orders/payments made via our shops within those shopping platforms.