Product Summary
The Perfect Match of Both Pre & Probiotics

"Friendly" bacteria act like the gut's defence system against "bad" or dangerous disease-causing bacteria. A gut that has a bountiful amount of this healthy friendly live bacteria enjoys wonderful health benefits. It is dog & cat friendly.
Love Bugs is good for:
Promoting gut health
Preventing tooth decay and protecting oral health
Supporting ear and skin health
Helping relieve allergy symptoms
Supporting digestive issues
Love Bugs is available in 40g and 80g.
40g Jar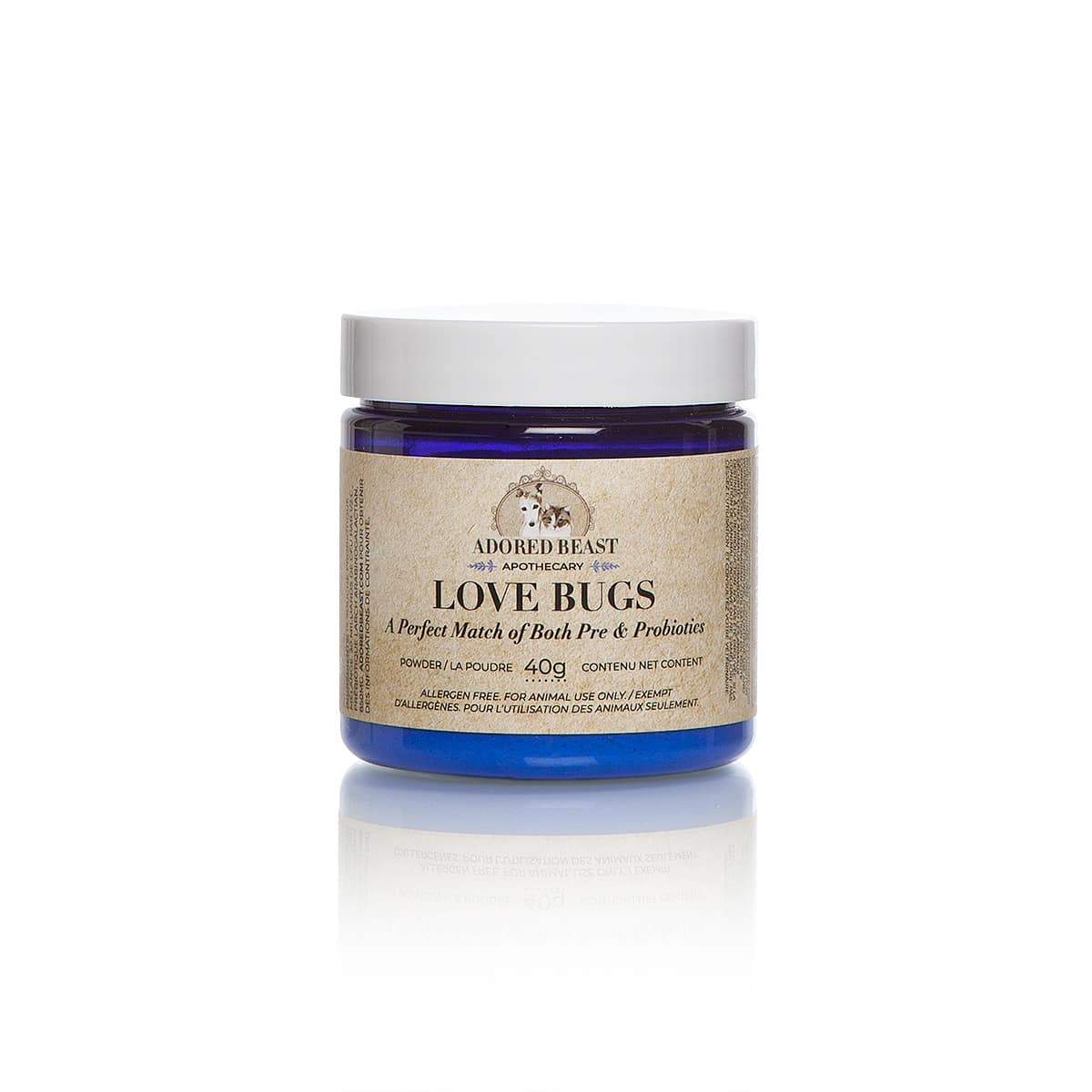 80g Jar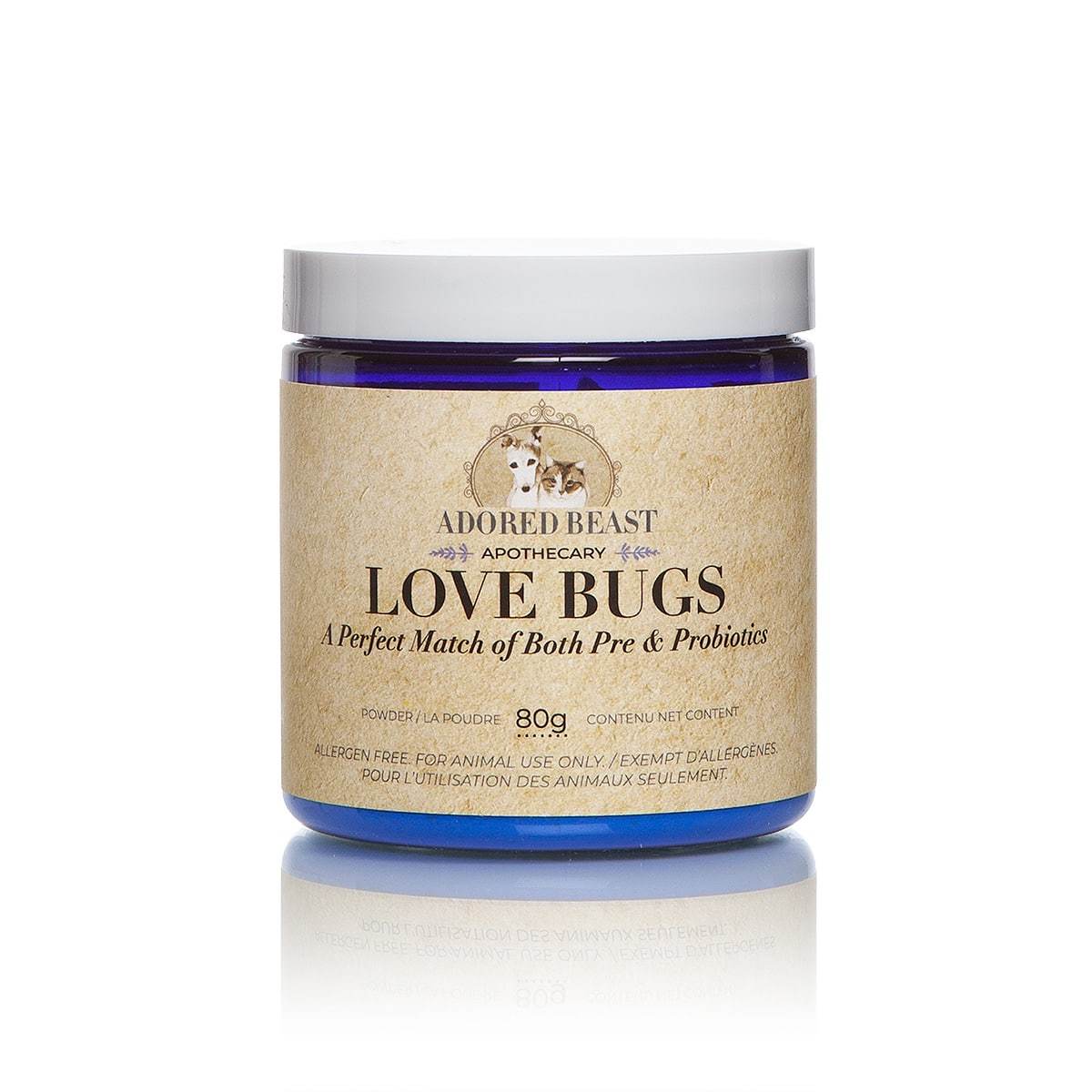 Product Video
More about Pre and Probiotics
Difference Between our Probiotic Products
Product Ingredients
14 Strain Probiotic Blend, 30 Billion CPU Per 1/2 TSP
Prebiotic Larch Arabinogalactian (850 MG)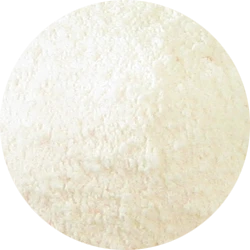 14 Strain Probiotic Blend
Probiotics enhance the immune response of the digestive tract. Lactic acid bacteria produce lactic acid which inhibits yeast growth by lowering intestinal pH and blocks the receptors or adhesion sites of pathogens, creating a barrier against infectious organisms. 15 billion allergen-free CFU (colony forming units) to defend against harmful gut bacteria by repopulating the digestive system with friendly bacteria.
Probiotic Blend Species And Strains
Streptococcus Thermophilus MAK34S24T
Bifidobacterium Infantis MAK22B041
Bifidobacterium Longum MAK34B12L
Bifidobacterium Bifidum MAK53B66B
Bifidobacterium Breve MAK40B22B
Lactobacillus Lactis MAK16B42L
Lactobacillus Rhamnosus MAK79L08R
Lactobacillus Plantrum MAK45L23P
Lactobacillus Paracasei MAK92L81P
Lactobacillus Helveticus MAK18L62H
Lactobacillus Salivarius MAK90L10S
Lactobacillus Bulgaricus MAK55L88B
Lactobacillus Acidophilus MAK32L61A
Lactobacillus Casei MAK20L30C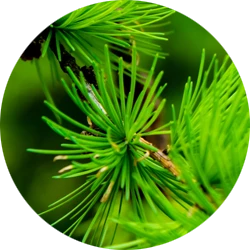 Larch Arabinogalactan (prebiotic)
Prebiotic Larch Arabinogalactan is a Larch tree extract that supports colon health. It is often used as an effective adjunct to cancer therapies due to its ability to stimulate the immune system and block metastasis of tumor cells. Its uses in people include chronic fatigue syndrome, viral hepatitis, HIV/ AIDS, and autoimmune diseases. It is also commonly used for infections.
supports colon health
used as adjunct to cancer treatment
stimulates immune system
blocks metastasis of tumour cells
14 Strain Probiotic (rebalances gut flora)
inhibits yeast growth
blocks adhesion sites of pathogens
enhances immune respones
prevents/treats diarrhea
maintains integrity of intestinal tract
prevents/treats UTI
decreases side effects of antibiotics
Product Usage Directions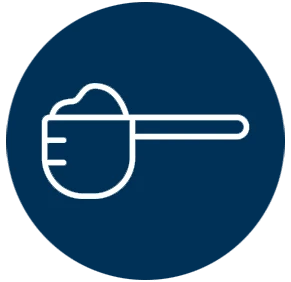 Add to food once (1) per day according to your dog or cat's weight dosage.
| ANIMAL WEIGHT | DAILY SERVING |
| --- | --- |
| 1 – 29 LBS (0.45-13.2kg) | 1/4 TSP |
| 30 – 59 LBS (13.6-26.8kg) | 1/2 TSP |
| 60 – 89 LBS (27.2-40.4kg) | 3/4 TSP |
| 90+ LBS (40.8kg +) | 1 TSP |
Product FAQ
Q : Why does my pet need a pre and probiotic?
A : The latest research points to the gut being responsible for more than 80% of the immune system! The main component of a healthy gut is the friendly bacteria that live there (probiotics). This bacteria combats bad bacteria. They are the gatekeepers that stop intruders and keep the mucosal lining healthy so the body receives its vital nutrition.
These "good soldiers" need to be able to have the proper fertilization in order to set up a colony and continue to produce and repopulate. Essentially, you need to feed the probiotics. This happens by giving a prebiotic.
Probiotics are not nearly as successful at reproducing and flourishing without the help of a prebiotic.
Q : Will giving a probiotic cause intestinal discomfort?
A : No! In fact, it is quite the opposite. Pre and probiotics for dogs should support the natural digestion process and help to derail bad bacteria that's often the leading cause of intestinal upset.
Q : Does this need to be refrigerated after opening?
A : Love Bugs is freeze-dried, so while refrigeration is not necessary, we believe it will help to maintain optimal freshness once the container is opened.
Q : Does this expire?
A : Yes, please check the bottom of the jar for the best before date.
Q : Can I use the product after expiry?
A : Yes, you can. The best before date is an indicator of when the bacteria will be at their optimum capacity.
Note
THIS INFORMATION IS INTENDED TO PROVIDE INFORMATION ONLY.
EACH PET HEALTH SITUATION IS UNIQUE. THIS INFORMATION IS NOT INTENDED FOR USE IN DIAGNOSIS OR TREATMENT OF SPECIFIC HEALTH PROBLEMS OR DISEASES, AND SHOULD NEVER BE CONSIDERED AS A SUBSTITUTE FOR VETERINARY ADVICE."
JJ E-Homez Holistic Pet Return Policy
Generally, all our products are strictly non-refundable nor exchangeable.
However, in the event you received an incorrect or defective item, or any other valid reason that you can't enjoy your purchase, we will provide a refund or an exchange, case by case basis.
All we ask is that when the item is returned, it should meet the following requirements:
Reach out to us to arrange an appointment to drop off your item at 216A Boon Lay Ave.
Item returned should be in their original & sealed packaging. Broken seals will not be accepted, unless there's a valid reason, based on case by case basis.
Please ensure at least 6 months of shelf life if it's a perishable item.
Send us your order confirmation email for refund verification.
Items not eligible for returns:
Food related, wearables, beds and carriers due to food safety & hygiene reasons.
Items that are purchased from promotional pricing from all of our sales channels.
Customers who had a history of returning more than 3 items.
When we receive the refunded/exchange item, we will review the condition of the item, and reach out to you to confirm and issue a refund/exchange within 7 working days. We regret that customers who decline to respect our policy will be ineligible for exchange, returns and refunds.
Do also note that if we find that a product has been intentionally damaged or tampered with, refunds will not be offered.
As generally, returns are not allowed otherwise, please check your order (e.g. type, size, colour, quantity, etc) before checking out. If you need help with any product, chat with us or please send us an email to jjehomez@gmail.com
Pre-order Items T&C
Please note of the following terms & conditions on all our Pre-order items :
Full payment is required for all Pre-order items.
Expect Pre-order items to be delivered between 3 to 15 working days (depending on which item) starting from your order date.
We will connect via WhatsApp or Email should there be any updates or concerns regarding your order.
Promotions
Website promotion for year 2023
Free Delivery for : orders above $38
*Terms & Conditions:
Website promotion is only applicable for orders/payments made via our website.
Promotions at other shopping platforms (Carousell, Lazada, Shopee, Amazon) is only applicable for orders/payments made via our shops within those shopping platforms.