Product Summary
Feline Gut Soothe specifically formulated for the feline, we took our canine formula, removed the aloe and added all natural beef liver flavor for added palatability.
Feline Gut Soothe helps soothe and replenish the lining of the bowel, combats unhealthy bacteria with 15 billion cfu 14 species probiotic and supportive for issues such as:
Hairballs
Constipation
Diarrhea
Vomiting
Sneezing
Bladder issues
Targets inflammation in the GI, respiratory system and urinary tract. Supports the rebalance of gut flora and target GI issues. Also supportive for inflammation that presents as arthritis, autoimmune disease, skin disease. Also fantastic for diet transitioning!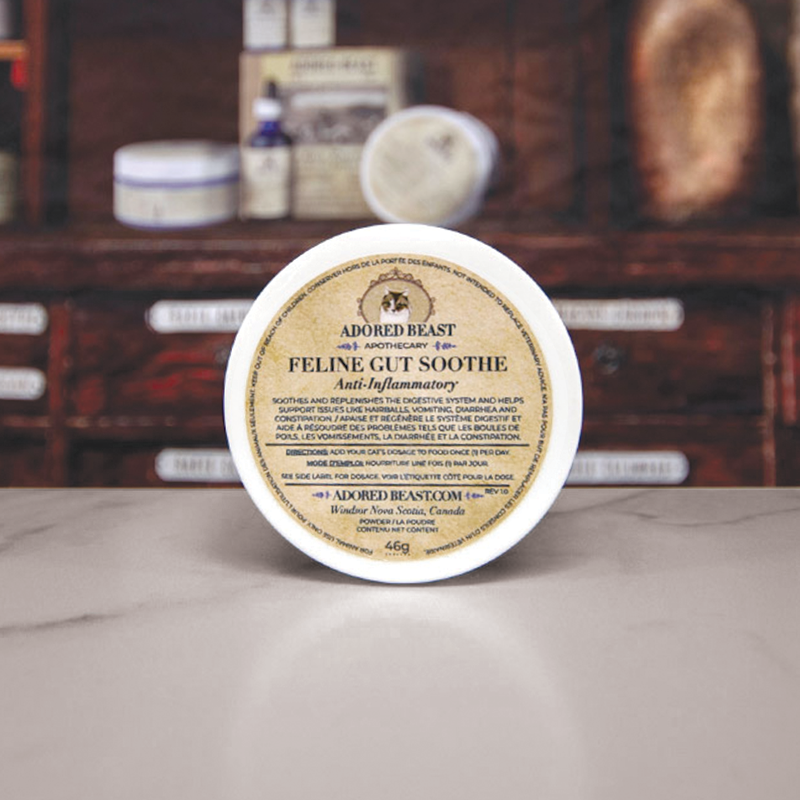 Product Video
Product Ingredients
L-Glutamine, N-Acetyl Glucosamine, Slippery Elm Bark, Deglycyrrhizinated Licorice, Marshmallow Root, 14 Species Probiotic, Larch Arabinogalactan, Natural Beef Liver Flavour
Marshmallow Root Herbal (similar benefits to slippery elm)
phagocytosis (cells engulf bacteria or dead cell tissue)
L-Glutamine Amino Acid (building block of protein)
promotes digestive health
promotes brain health
promotes muscle growth
fights cancer
helps with high blood sugar
acts as a band aid to prevent further damage
balances mucous production
N-aceytlglucosamine (Fermented Corn Starch) (found naturally in the mucous membranes of digestive, urinary and respiratory tracts)
helps support production of glycoproteins
supports structural integrity of respiratory tract, digestive tract and urinary tract
protects against invading organisms
Larch Herbal Larch Arabinogalactan (prebiotic)
supports colon health
used as adjunct to cancer treatment
stimulates immune system
blocks metastasis of tumour cells
14 Strain Probiotic (rebalances gut flora)
inhibits yeast growth
blocks adhesion sites of pathogens
enhances immune respones
prevents/treats diarrhea
maintains integrity of intestinal tract
prevents/treats UTI
decreases side effects of antibiotics
Product Usage Directions
Directions: Add dose per cat's weight to food once per day.
Cat Weight (lbs) - Dosage (teaspoons) - How long will it last?
1-5 lbs (0.47-2.27kg) - 1/8 tsp - 116 days
6-11 lbs (2.72-5kg) - 1/4 tsp - 58 days
12 lbs + (5.4kg +) - 1/2 tsp - 25 days
*In chronic cases where symptoms do not begin to improve within 10 days, it is best to consult your veterinarian.
Product FAQ
Q : Do I have to use the entire container or do I stop using once symptoms disappear?
A : When you are trying to address any health issue with our products it is good to do a minimum of 6 weeks as we have taken the approach of many authentic herbalists that the body needs to an average of 6 weeks to process the healing response.
With many chronic diseases ( an issues that has been heavily medicated or your animal has had for over 1 year ) it is often the case that you will need to rotate Gut Soothe with Love Bugs or Healthy Gut. We have many animals taking it long term because they feel so much better when they are on it.
Q : Do I stop using other probiotics?
A : It is not necessary to be on additional probiotics but if you are currently giving one it doesn't hurt to finish or slowly wean off rather than just stopping something abruptly your animal has been getting. One thing to note is that the probiotic blend in Gut Soothe is quite powerful, offering 30 Billion CFUs (colony forming units) per serving for a medium sized dog. Too much probiotics can cause loose stool, so if you are currently giving one, be mindful of that!
Q : If my pet is allergic to shellfish, will the N-acetylglucosamine be a problem?
A : If you know your animal is allergic to shellfish it is best to stay away from our products with this ingredient. Please understand that shellfish allergy is not the same as a fish allergy!
Q : Will this interact with any other medications?
A : NAG should not be given to animals that are on anticoagulant drugs. It is always advisable to check with your veterinarian if you animals is being treated for an existing condition or if they are on medication of any kind.
Q : Does this need to be refrigerated after opening?
A : The product is freeze dried, so while refrigeration is not necessary, we believe it will help to maintain optimal freshness.
Q : What other conditions is this good for?
A : Anything that involves mucosal lining, Gut Soothe is terrific for bladder health and respiratory (lung) health as well!
Q : Does this expire?
A : Yes, please check the bottom of the jar for the best before date.
Q : What is the difference between Gut Soothe and Healthy Gut?
A : Both products have the same base - the pre and probiotic blend that makes up Love Bugs.
Gut Soothe has the added herbal components that target inflammation and can soothe the mucosal lining.
Healthy Gut has the added digestive enzyme components.
Note
SAFE AND EFFECTIVE USE IN PREGNANT ANIMALS OR THOSE INTENDED FOR BREEDING HAS NOT BEEN PROVEN.
IF ANIMAL'S CONDITION WORSENS OR DOES NOT IMPROVE, STOP PRODUCT ADMINISTRATION AND CONSULT YOUR VETERINARIAN.
THIS INFORMATION IS INTENDED TO PROVIDE INFORMATION ONLY.
EACH ANIMAL HEALTH SITUATION IS UNIQUE. THIS INFORMATION IS NOT INTENDED FOR USE IN DIAGNOSIS OR TREATMENT OF SPECIFIC HEALTH PROBLEMS OR DISEASES, AND SHOULD NEVER BE CONSIDERED AS A SUBSTITUTE FOR VETERINARY ADVICE."
JJ E-Homez Return Policy
Generally, all our products are strictly non-refundable nor exchangeable.
However, in the event you received an incorrect or defective item, or any other valid reason that you can't enjoy your purchase, we will provide a refund or an exchange, case by case basis.
All we ask is that when the item is returned, it should meet the following requirements:
Reach out to us to arrange an appointment to drop off your item at 216A Boon Lay Ave.
Item returned should be in their original & sealed packaging. Broken seals will not be accepted, unless there's a valid reason, based on case by case basis.
Please ensure at least 6 months of shelf life if it's a perishable item.
Send us your order confirmation email for refund verification.
Items not eligible for returns:
Food related, wearables, beds and carriers due to food safety & hygiene reasons.
Items that are purchased from promotional pricing from all of our sales channels.
Customers who had a history of returning more than 3 items.
When we receive the refunded/exchange item, we will review the condition of the item, and reach out to you to confirm and issue a refund/exchange within 7 working days. We regret that customers who decline to respect our policy will be ineligible for exchange, returns and refunds.
Do also note that if we find that a product has been intentionally damaged or tampered with, refunds will not be offered.
As generally, returns are not allowed otherwise, please check your order (e.g. type, size, colour, quantity, etc) before checking out. If you need help with any product, chat with us or please send us an email to jjehomez@gmail.com
Pre-order Items T&C
Please note of the following terms & conditions on all our Pre-order items :
Full payment is required for all Pre-order items.
Expect Pre-order items to be delivered between 3 to 15 working days (depending on which item) starting from your order date.
We will connect via WhatsApp or Email should there be any updates or concerns regarding your order.
Promotions
Website promotion for year 2021
Free Delivery for : orders above $38
*Terms & Conditions:
Website promotion is only applicable for orders/payments made via our website.
Promotions at other shopping platforms (Carousell, Lazada, Shopee, Amazon or Qoo10) is only applicable for orders/payments made via our shops within those shopping platforms.