Augustine Approved
The A+ Symbol
The A+ Symbol was created to help you identify supreme health products with ease. I ONLY promote products that have your dog's best interests at heart, so when you opt for the A+ symbol you know your best friend is in good hands. Before anything I produce or promote goes near your dog it is approved by Augustine herself. After all, she IS the brains behind the business and I just do as I am told! With Augustine Approved products your dog will be eating what Augustine eats, and I regard the responsibility it carries as the highest honour one could ask for in the pet world.
The Brand
In time, when you come to fully understand the philosophy and reasoning behind the Augustine Approved brand you will realise that I am not messing around. Augustine Approved is the real deal and every ingredient and process has a specific purpose. What you and your dog are about to experience is the outcome of countless hours of research that I began in 2010, all with one ambitious goal at heart: To give my puppy, Augustine the Boxer every opportunity to live well into her 20's. As I worked towards a dream people started to ask me what ready-made food was on the market that I could recommend for their dogs. The simple answer was and still is, none. While some products show more promise than others, I am yet to find a single brand that I would be content to feed Augustine.
Being a bit of a purist and also an advocate of the organic movement my mission is to create quality products only when there is a need for them to exist - nothing more, nothing less. My recommendation is to prepare fresh meals at home, but I do appreciate that this is not always possible so hence the need for fresh, ready-made food products... Augustine's SuperFood will be available for retail sale soon. In the meantime we are pleased to launch our range of Augustine's SuperBoost, Augustine's Super Ingredients and Augustine's Super Skin Care. Augustine Approved products sit well above super premium dog food brands not only because they far exceed the nutritional needs of canines, and not because they are fresh and have been produced with a strong focus on the prevention of illness, but because they are so healthy you can eat them too! Although a permit is not needed to make food for dogs, Augustine and I have insisted that we are regulated under human food standards. We are sincere in creating products that are focused on the health and happiness of dogs rather than profit and support a number of causes and charities highlighted in our Community page. Augustine and I are excited to share our journey with you and look forward to receiving feedback.
The Story of Augustine Approved
If you have the time to read this I'd like to tell you a little bit about my journey to bring you Augustine Approved products. And if you don't mind, I'd like to tell you a bit about the inspiration behind the brand ‐ my puppy, Augustine the Boxer. Those who know me make jokes about how much I adore Augustine and like all you animal lovers out there I want my best friend to have a long and happy life.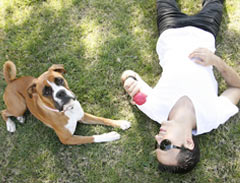 When Augustine arrived the excitement kicked in and I splurged on what I was advised was high quality food. To my dismay, no matter what commercial dog food Augustine ate, she was plagued with stomach problems and didn't have the vibrancy expected of a young boxer. Of course I took her to the vet and followed the recommended commercial diets but three months on she still suffered. I began to take a great interest in researching the ingredients allowed in dog foods. I couldn't help but wonder; "How good are these foods for dogs if they are not SAFE for US to eat?" I was astounded that I could not find a single fresh 100% organic food on the market that was completely balanced and supercharged with more than just the basic nutrients dogs need. I wanted more because I believe a dog's devotion deserves the best in return. I was becoming desperate for a solution and felt like I was left with no choice but to solve the riddle of Augustine's health myself. But what did I know about making dog food? I couldn't even cook for myself! Being an outsider to the pet industry was a positive. You see the problem is if you approach any expert in the field of dog nutrition and ask them to create the world's greatest dog food you can bet your bottom dollar that they will automatically place restrictions on their creativity before they even begin. They will be concerned about adhering to a budget, storage and transportation. To work within the restrictions they have created in their own minds, they will most certainly come up with a dry (kibble) food, or canned food. I do not believe it is good for dogs to eat biscuits or canned food, especially not for their entire lives. I wouldn't eat such a diet, would you? It soon became my personal ambition to create the world's greatest dog food -­ without compromise, so that Augustine and all the wonderful canines out there can enjoy a healthy, happy life and be our companions for years to come. Finally after extensive trials, Augustine approved the food. Augustine turned two on May 25th this year and she is healthier, faster, and stronger than ever. Mind you while I am writing this all I can hear is the squeaking sounds coming from her squeaky toy... gotta love boxers! Here's to the health of all dogs.
A+ Super Dog
Simply put, A+ Super dogs are dogs with health and vitality like no other. They go faster, play harder and recover quickly. A+ Super Dogs have nutritionally been given every opportunity to live the longest and healthiest lives possible. Augustine is the first of a long line of A+ Super Dogs. Now you too can provide your best friend with a chemical free super-­charged diet every day. The people I look up to for their standout achievements towards the nutritional health of canines have a belief that dogs only need raw meaty bones to live well. This may be true but I am not interested in producing healthy dogs. My passion is to raise a new generation of dogs with superior health.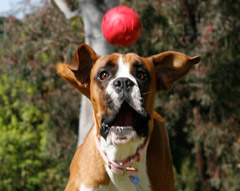 I'd like to share some interesting results of the possible benefits of Augustine's SuperFood. During the start of my venture I approached many dog owners and asked if they would like to trial Augustine's SuperFood. They came back to me with stories of improved energy, allergy relief, improved weight, and improved general health in short time frames. The most impressive result came from my neighbour Phil who had just moved in. I must say even I was stunned. The story goes like this... After much deliberation Phil agreed to add Augustine's SuperBoost (the SuperFood powder formula found in Augustine's SuperFood) to his greyhound's "racing mince" diet. He was too reluctant to switch his prized dog over to a whole new diet that "the guy next door was making in his house". Can you blame him? After all he hardly knew me. I will never forget the look on his face seven days later when he reported that his dog had a new lap time 10 lengths faster than the previous week. Now please do know that I am not and will never be a supporter of animal racing of any kind, but this anecdotal evidence suggests that dogs will have increased energy and stamina on Augustine Approved products.
There are dozens of contributing factors to a long and healthy life. These include:
Diet
Environment
Exercise
Genetics
Pregnancy
Dental & overall hygiene
Immunisation
Mental stimulation
De­‐sexing
The greater majority of illnesses are caused by diet. Augustine and I have that part covered, naturally the rest is up to you.