Product Summary
Immune dysfunction is the single most common reason owners take their pets to the veterinarian. It may be because their immune systems are on overdrive, inflaming hidden allergies and itchy skin. Or their immune systems may be underperforming and exposing them to acute health challenges.
The good news is, you can help restore immune balance in your pet and, by doing so, support vibrant health, and maybe, at the same time, reduce the number of unnecessary visits to your vet.
Immune Balance for Cats & Dogs harmonizes immune function, boosts cell, tissue and organ repair to help slow cellular aging, supports liver and digestive health, helps restore a healthy gut microbiome and much more. This revolutionary formula supports your pet's immune balance with a combination of four powerful ingredients:
Arabinogalactan from Western larch trees, a prebiotic fiber that feeds friendly bacteria in your pet's gut, supporting a healthy intestinal lining and a normal, healthy inflammatory response
Bovine Colostrum with standardized IgG (180 mg/serving) from American dairy cows not fed synthetic hormones or routine antibiotics, as it contains important immune factors, growth hormones and probiotics
Certified Organic Moringa leaf powder contains abundant vitamins and minerals as well as valuable antioxidants to promote a normal healthy inflammatory response
Yeast Fermentate, grown, harvested and manufactured in the U.S. (contains no active yeast), promotes Natural Killer (NK) cell activity and antioxidant protection
Immune Balance for Cats & Dogs offers a convenient option for providing ideal immune support for dogs and cats, while avoiding the irritation of juggling multiple supplements.
Help your dog or cat enjoy vibrant immune health for years to come, and order Immune Balance for Cats & Dogs today.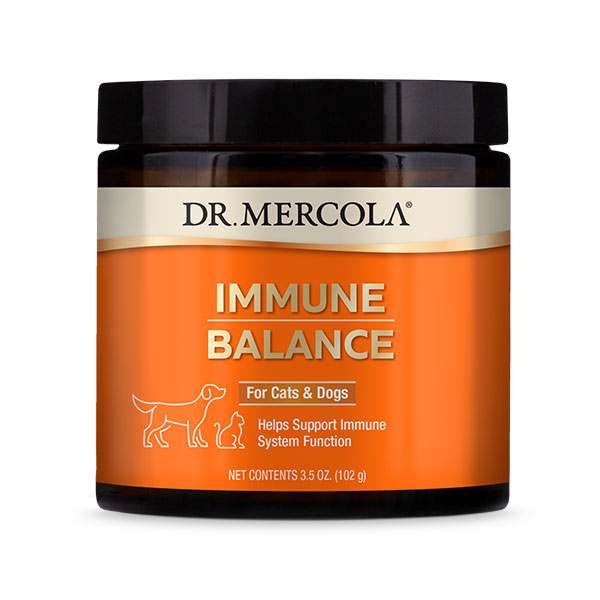 Product Video
Product Complete Label with Usage Directions

Product FAQ
Q : Is Immune Balance for Cats & Dogs safe for long-term use?

A : Yes, these ingredients may be consumed by pets on an ongoing daily basis. I recommend this for long-term use, especially in animals that may be genetically disposed to certain conditions.
Q : If my pet is healthy, can I give them Immune Balance for Cats & Dogs?

A : Immune Balance can be given to pets with over or under-active immune systems and can also be used to help maintain immune homeostasis in healthy animals during stressful events, such as boarding, travel and visits to dog parks or other high-stress locations. This product can be given on an "as needed" basis or can be administered consistently for chronically immune-compromised pets.
Q : Can I use this with multiple conditions or with significant health conditions?

A : Absolutely. Because this is an immune balancer, it may offer unlimited usefulness both for allergic conditions and for bolstering innate defenses and overall immune response, including both over- and under-active immune responses.
Q : Will my fussy pet accept this?

A : This formula is designed for even the most finicky pets. I've found that even fussy felines like it.
Q : Can I use this product with other medications my vet has prescribed?

A : Yes, this product can be a part of a supplement or medication protocol prescribed by your pet wellness coach or veterinarian. Consult with your vet if you have specific questions about how this product may interact with other medications your pet is taking.
JJ E-Homez Holistic Pet Return Policy
Generally, all our products are strictly non-refundable nor exchangeable.
However, in the event you received an incorrect or defective item, or any other valid reason that you can't enjoy your purchase, we will provide a refund or an exchange, case by case basis.
All we ask is that when the item is returned, it should meet the following requirements:
Reach out to us to arrange an appointment to drop off your item at 216A Boon Lay Ave.
Item returned should be in their original & sealed packaging. Broken seals will not be accepted, unless there's a valid reason, based on case by case basis.
Please ensure at least 6 months of shelf life if it's a perishable item.
Send us your order confirmation email for refund verification.
Items not eligible for returns:
Food related, wearables, beds and carriers due to food safety & hygiene reasons.
Items that are purchased from promotional pricing from all of our sales channels.
Customers who had a history of returning more than 3 items.
When we receive the refunded/exchange item, we will review the condition of the item, and reach out to you to confirm and issue a refund/exchange within 7 working days. We regret that customers who decline to respect our policy will be ineligible for exchange, returns and refunds.
Do also note that if we find that a product has been intentionally damaged or tampered with, refunds will not be offered.
As generally, returns are not allowed otherwise, please check your order (e.g. type, size, colour, quantity, etc) before checking out. If you need help with any product, chat with us or please send us an email to jjehomez@gmail.com
Pre-order Items T&C
Please note of the following terms & conditions on all our Pre-order items :
Full payment is required for all Pre-order items.
Expect Pre-order items to be delivered between 3 to 15 working days (depending on which item) starting from your order date.
We will connect via WhatsApp or Email should there be any updates or concerns regarding your order.
Promotions
Website promotion for year 2023
Free Delivery for : orders above $38
*Terms & Conditions:
Website promotion is only applicable for orders/payments made via our website.
Promotions at other shopping platforms (Carousell, Lazada, Shopee, Amazon) is only applicable for orders/payments made via our shops within those shopping platforms.