Product Summary
Recurring gut issues are one of the most common reasons for visiting the vet. The majority of these are caused by a life of processed foods. Moving to a fresh, biologically appropriate diet aside, BioFunction8 was brought out to help settle and stabilise troubled guts.
BioFunction 8 improves the dog's gut health by promoting the growth of beneficial bacteria whilst restricting harmful bacteria. A happy gut means better nutrient uptake, leading to better skin and coat condition, increased energy levels, stronger immunity, whilst decreasing the likelihood of diseases. BioFunction8 is packed with beneficial bioactive compounds, trace elements, minerals, and vitamins.
Combining the powers of both sea and land plants that are each shown to promote gut health. BF8 contains a blend of 3 Irish, air-dried seaweeds and a unique seaweed extract, chosen for their anti-oxidative and anti-inflammatory properties. Also included in the product are organic marshmallow, chamomile and chia seeds, which are long known to promote gut membrane and overall gut health. Lastly, we throw in a pinch of our unique fibre supplement StoolRite for better stool formation. When included in the daily diet of your pet, this maintenance supplement can assist in the control of many of the chronic illnesses that plague our pets today enabling them to enjoy a longer, healthier life through a healthy gut and system.

Remember, recurring gut issues are largely caused by something going IN to your dog. You must focus there first or you will forever be buying products to treat the symptoms.
Help reduce gut inflammation
Help restore gut lining
Boost digestion & absorption
Better stool formation
Promote Gut Health
Increase Nutrient Uptake and Vitality
Support Weight Control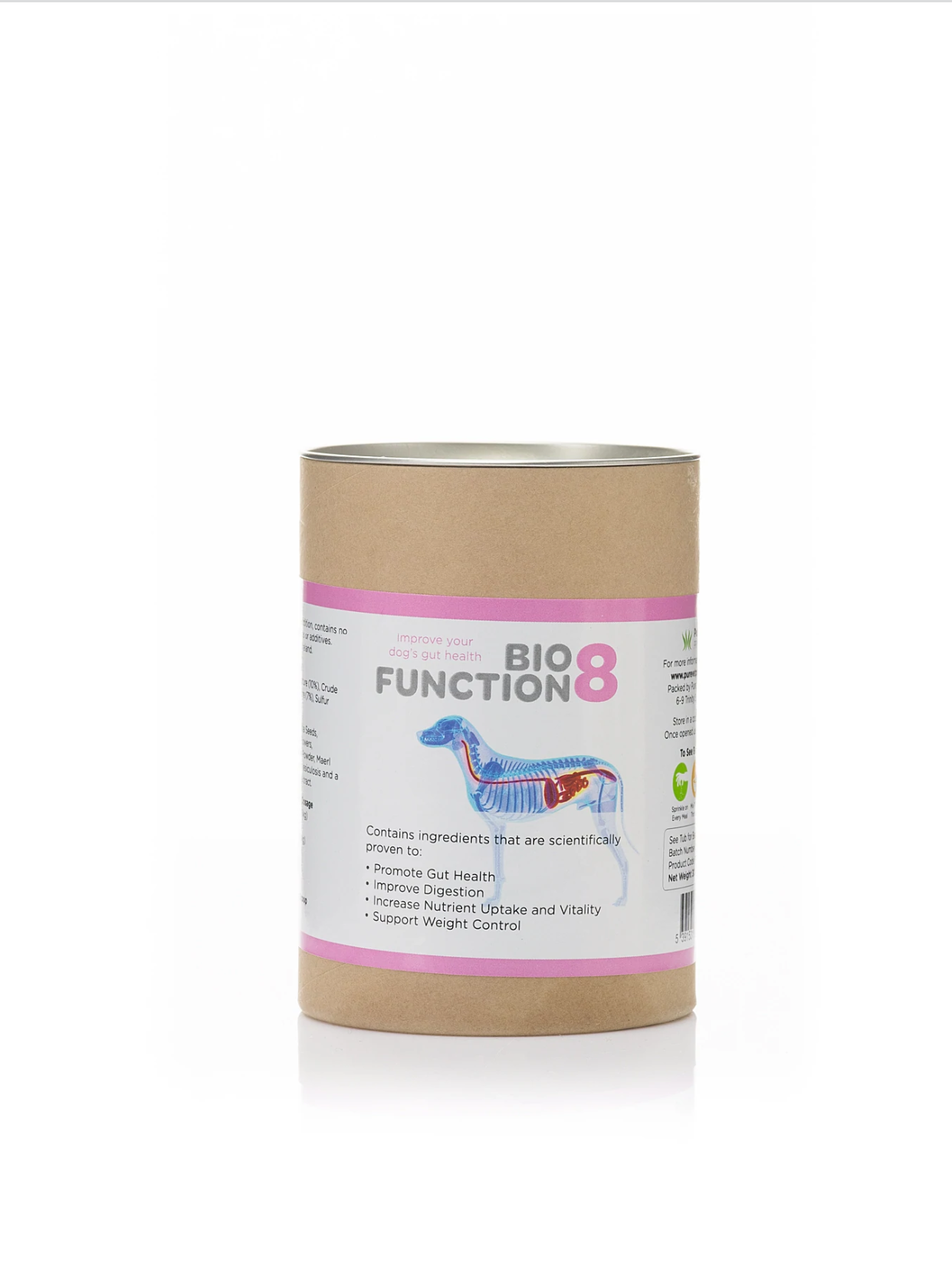 Product Video
Product Ingredients
A blend of Organic Chia Seeds, Organic Chamomile Flowers, Organic Marshmallow Powder, Maerl lithothamnium, Fucus vesiculosis and a spray dried seaweed extract.
No artificial chemicals, additives or preservatives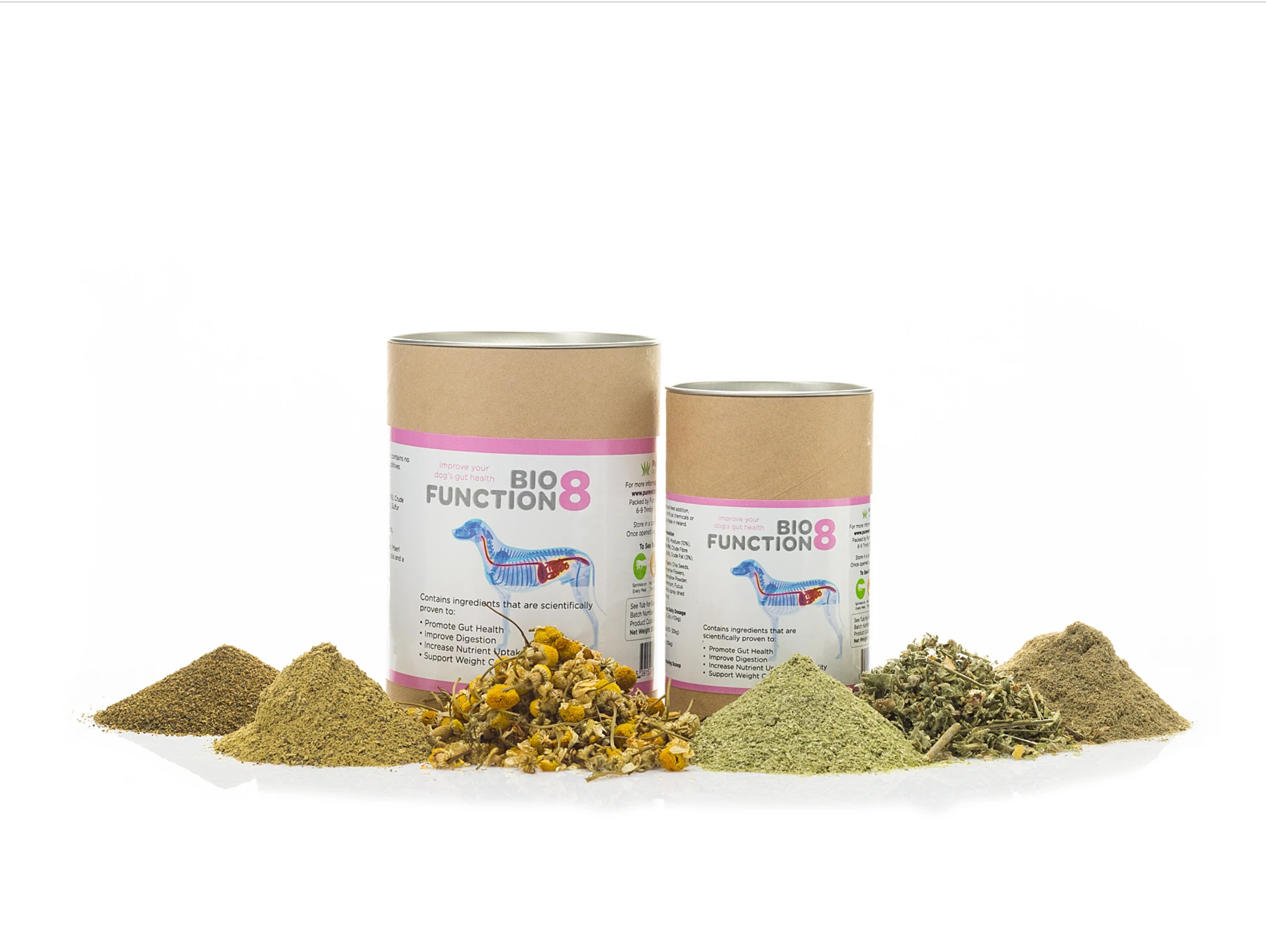 Product Usage Directions
If your animal has never previously eaten seaweed, commence feeding with a small amount and gradually increase the quantity, until the feeding recommendation is achieved.
If using any other seaweed products in your pet's diet, do not exceed a 5% inclusion ratio of seaweed product to total feed.
The dosage below are to be mixed thoroughly with food once a day.
● <10kg - 1tsp
● 10kg to 20kg - 1.5 tsp
● >20kg - 2tsp
*Start with small amounts and increase to recommended amount.
Note
BIOFUNCTION8 IS NOT TO BE USED IN ANIMALS WITH HYPER THYROID ISSUES.
SAFE AND EFFECTIVE USE IN PREGNANT ANIMALS OR THOSE INTENDED FOR BREEDING HAS NOT BEEN PROVEN.
IF ANIMAL'S CONDITION WORSENS OR DOES NOT IMPROVE, STOP PRODUCT ADMINISTRATION AND CONSULT YOUR VETERINARIAN.
THIS INFORMATION IS INTENDED TO PROVIDE INFORMATION ONLY.
EACH ANIMAL HEALTH SITUATION IS UNIQUE. THIS INFORMATION IS NOT INTENDED FOR USE IN DIAGNOSIS OR TREATMENT OF SPECIFIC HEALTH PROBLEMS OR DISEASES, AND SHOULD NEVER BE CONSIDERED AS A SUBSTITUTE FOR VETERINARY ADVICE."
JJ E-Homez Holistic Pet Return Policy
Generally, all our products are strictly non-refundable nor exchangeable.
However, in the event you received an incorrect or defective item, or any other valid reason that you can't enjoy your purchase, we will provide a refund or an exchange, case by case basis.
All we ask is that when the item is returned, it should meet the following requirements:
Reach out to us to arrange an appointment to drop off your item at 216A Boon Lay Ave.
Item returned should be in their original & sealed packaging. Broken seals will not be accepted, unless there's a valid reason, based on case by case basis.
Please ensure at least 6 months of shelf life if it's a perishable item.
Send us your order confirmation email for refund verification.
Items not eligible for returns:
Food related, wearables, beds and carriers due to food safety & hygiene reasons.
Items that are purchased from promotional pricing from all of our sales channels.
Customers who had a history of returning more than 3 items.
When we receive the refunded/exchange item, we will review the condition of the item, and reach out to you to confirm and issue a refund/exchange within 7 working days. We regret that customers who decline to respect our policy will be ineligible for exchange, returns and refunds.
Do also note that if we find that a product has been intentionally damaged or tampered with, refunds will not be offered.
As generally, returns are not allowed otherwise, please check your order (e.g. type, size, colour, quantity, etc) before checking out. If you need help with any product, chat with us or please send us an email to jjehomez@gmail.com
Pre-order Items T&C
Please note of the following terms & conditions on all our Pre-order items :
Full payment is required for all Pre-order items.
Expect Pre-order items to be delivered between 3 to 15 working days (depending on which item) starting from your order date.
We will connect via WhatsApp or Email should there be any updates or concerns regarding your order.
Promotions
Website promotion for year 2023
Free Delivery for : orders above $38
*Terms & Conditions:
Website promotion is only applicable for orders/payments made via our website.
Promotions at other shopping platforms (Carousell, Lazada, Shopee, Amazon) is only applicable for orders/payments made via our shops within those shopping platforms.